Now Available: gammaCore Home Delivery
An innovative, non-drug migraine and cluster headache treatment for military & veterans

Active duty personnel and veterans more likely to suffer from migraines1, 2, 3
Headache in general, and migraine in particular are a serious and increasingly common problem in both active military personnel and veterans.
About 36 percent of veterans who served at least a one-year tour in Iraq or Afghanistan have been diagnosed with migraine or signs of migraine, according to the Department of Veterans Affairs.4, 5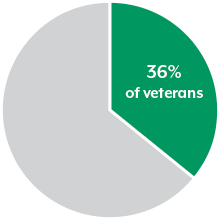 More than one third of soldiers were diagnosed with migraine or possible migraine upon returning from a 1-year tour in Iraq.
gammaCore Gives you Power Over Migraine and Cluster Headache Pain in the Palm of Your Hand™
gammaCore™ (non-invasive vagus nerve stimulator) is indicated for:
Adjunctive use for the preventive treatment of cluster headache
Relief of migraine pain
Relief of pain associated with episodic cluster headache
Available by prescription only. US Federal Law restricts this device to sale by or on the order of a licensed healthcare provider.
Please ask your healthcare provider if gammaCore is a treatment option for you.
How to use gammaCore
How to use gammaCore Sapphire 3
One Veteran's Story: Reclaiming His Life from migraine*
For almost four years Jess, a Navy veteran, spent life in a recliner with lights off and blinds drawn. He stopped driving. He stopped fishing.  Jess tried a number of medications. They made him groggy with only minor relief.
His neurologist then suggested gammaCore for his migraine headaches. Jess said he was functioning again after using gammaCore. He reduced his medication use, and now wakes refreshed. He's active and said he feels like a human being again.
*Individual results may vary
References:
1. Headache, The Journal of Headache and Pain, Migraine: the seventh disabler J Headache Pain. 2013; 14(1): 1. Published online 2013 Jan 10. doi: 10.1186/1129-2377-14-1, Timothy J Steiner, Lars J Stovner and Gretchen L Birbeck
2. Headache: The Journal of Headache and Pain, Prevalence and Impact of Migraine Among US Army Soldiers Deployed in Support of Operation Iraqi Freedom, 02 June 2008, B.J. Theeler, Madigan Army Medical Center, Neurology Service, 9040A Fitzsimmons Dr., Tacoma, WA 98431, USA
3. PubMed.gov, Headache disorders in the millennium cohort: epidemiology and relations with combat deployment. 011 Jul-Aug;51(7):1098-111. doi: 10.1111/j.1526-4610.2011.01914.x. Epub 2011 Jun 15. Jankosky CJ1, Hooper TI, Granado NS, Scher A, Gackstetter GD, Boyko EJ, Smith TC; Millennium Cohort Study Team
4. U.S. Department of Veterans Affairs, May 22, 2017, Veterans who deployed are more likely to develop migraines or headache disorders
5. American Migraine Foundation, November 8, 2018, Veterans and Migraine