See How gammaCore Is Changing Lives
"For any cluster headache sufferer who has got as desperate as me, I recommend gammaCore gammaCore wholeheartedly."
"It's improved my pain by around 40 per cent and I feel living with this condition isn't hopeless any more, so I have fewer dark days."
"It has really changed my life. I use it twice a day to try to prevent headaches, but if I feel one coming on, I'll use it even more as I find it really reduces the intensity of the pain."
"Not everyone will find this device useful, but for those who do, it helps treat a devastating condition"
"I spend eight minutes using it every day, and so far this has stopped any attacks. It has given me my life back by stopping the pain in its tracks."
"gammaCore is the greatest thing since sliced bread! Quality of life is everything."
"It's so easy and convenient to use. I have really been so glad to have another alternative to treat my patients."
"I started feeling like myself again I am not afraid migraine is going to control my life. For me, gammaCore works."
"With gammaCore, I am about to start doing things and feel like a human being again."
"gammaCore was awesome and gave me immediate relief. gammaCore has been really convenient for me."
How gammaCore (nVNS) Works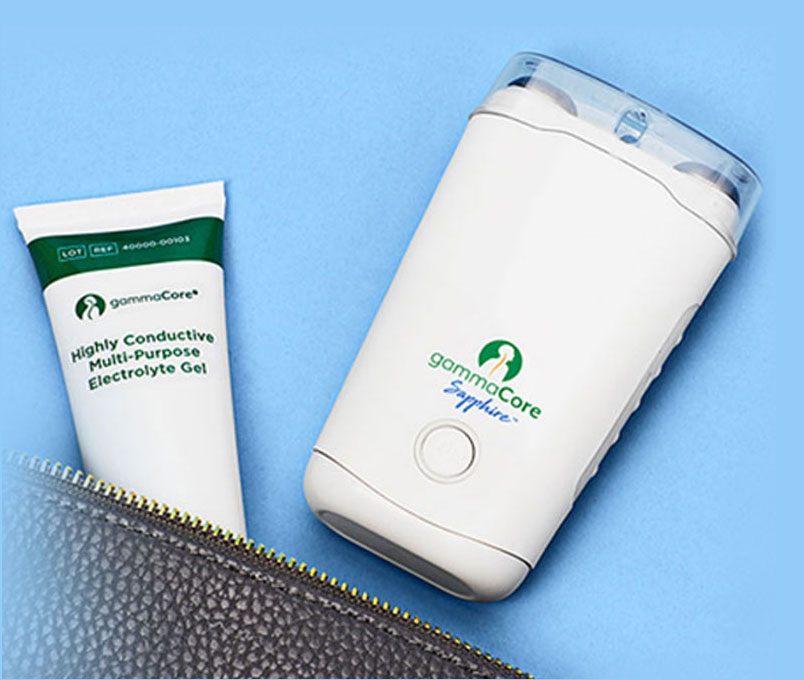 gammaCore activates the vagus nerve with patented, gentle electrical stimulation.

Non-invasive vagus nerve stimulation with gammaCore helps block the pain signals that cause migraines and cluster attacks.

Unlike traditional vagus nerve stimulation therapies, gammaCore stimulates the nerve non-invasively through the skin without the need for surgery.
For Physicians
By clicking here, you are authorising that you are a healthcare professional.
---
gammaCore offers an easy, convenient prescribing process
If you and your patients decide that gammaCore is right for them, simply:
Step 1:
Print
Print out the Physician Authorisation and Patient Consent/Order Forms:
– Physician completes the Authorisation Form
– Patient signs the Consent/Order Form
Step 2:
Email
Email the completed forms to the email address noted on the top right-hand corner of the forms
gammaCoreTM (non-invasive vagus nerve stimulator) is intended to provide non-invasive vagus nerve stimulation (nVNS) on the side of the neck. gammaCore is a non-drug treatment for adults who suffer from primary headache conditions (cluster headache, migraine, and hemicrania continua).
The long-term effects of the chronic use of gammaCore have not been evaluated
gammaCore contraindications include but are not limited to:

Have an active implantable medical device, such as a pacemaker, hearing aid implant, or any implanted electronic device
Have a metallic device, such as a stent, bone plate, or bone screw, implanted at or near the neck
Are using another device at the same time (e.g., TENS Unit, muscle stimulator) or any portable electronic device (e.g., mobile phone)

Safety and efficacy of gammaCore have not been evaluated in the following patients:

Patients diagnosed with narrowing of the arteries (carotid atherosclerosis)
Patients who have had surgery to cut the vagus nerve in the neck (cervical vagotomy)
Pediatric patients (younger than 12 years)
Pregnant women
Patients with clinically significant hypertension, hypotension, bradycardia, or tachycardia